About 21km northeast of Ninh Binh, the hot spring is located in Kenh Ga floating village of Ga Kenh in Gia Thinh commune, Gia Vien District.
The source of Ga Kenh longstanding but it was not until 1940 that she was discovered by French researchers. Subsequently, Vietnamese scientists have found that it is a mineral responsible for many elements, particularly sodium chloride, magnesium and potassium, calcium and bicarbonate. A stable temperature of 53oC, it is a "medical treasures" used in the treatment of several diseases such as:rheumatism, skin diseases, neuropathies … and recovering the health. Water from a resurgence of this accessory is hot spring bottling.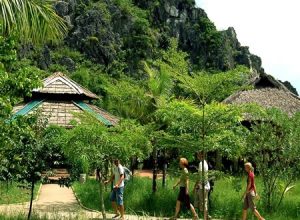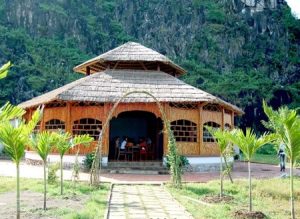 Kenh Ga Hot Spring including a hotel, a restaurant and a center of personal 18 bathrooms and 20 massage rooms. it becomes a very attractive tourist destination for a relaxing weekend with modern tourist services.
The excursion to Kenh Ga site allows you to discover the rice fragrant sweet aroma of rice and to explore the daily life of villagers in this universe of water and rocky peaks.